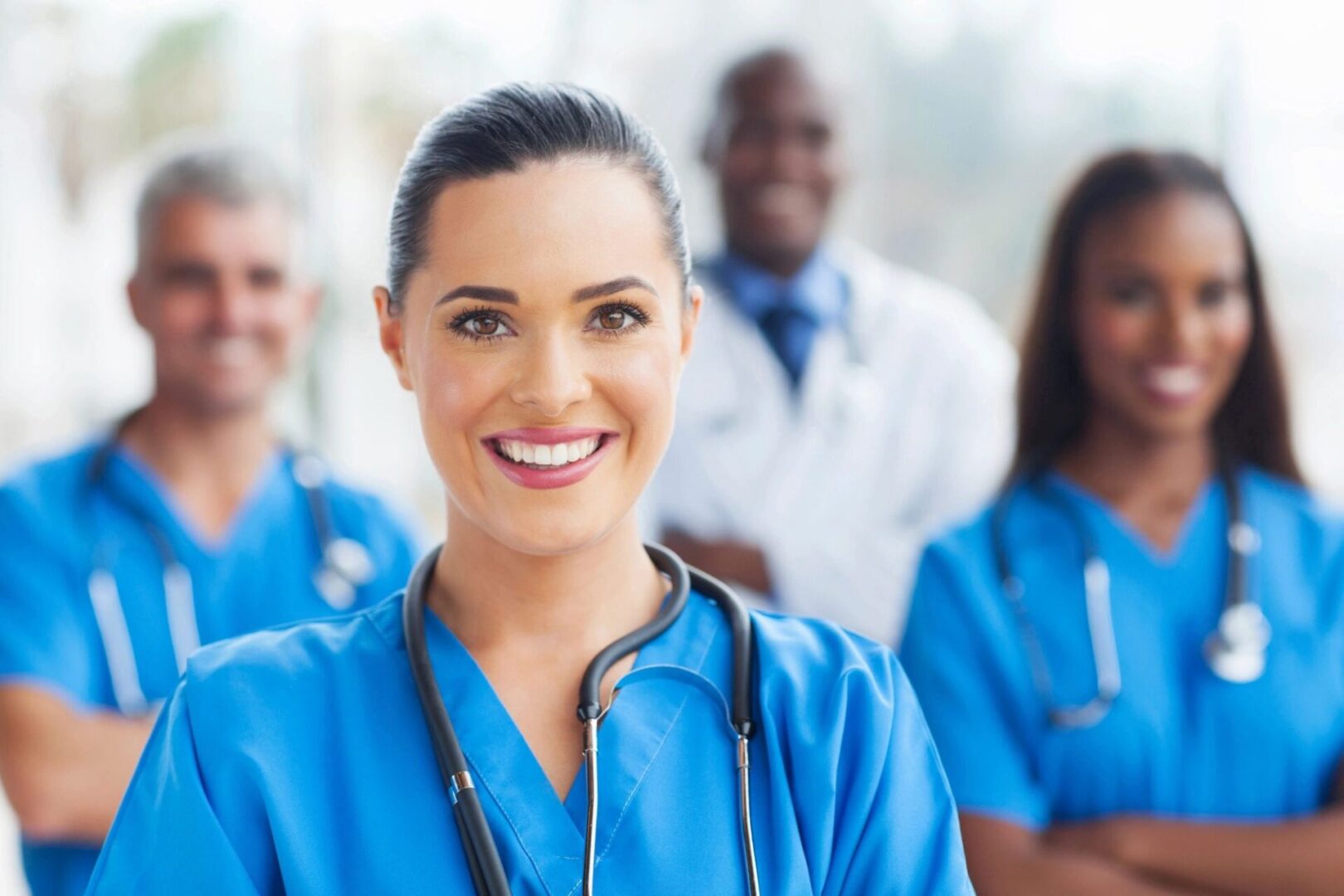 Join Our

Growing Team

at Chadon

Health Services, Inc.
We invite you to join our family. Chadon Health Services, Inc. aims to provide the finest healthcare services available, and we can't do that without hiring the best professionals.
Whether you are a nurse, a nursing assistant, a home health aide, an allied medical professional, or administrative personnel, we would love to work with you.
A companion/sitter assists the client with tasks of daily living as outlined in a written care plan that is established by a supervisor and is kept in the client's home. The administrator and client service supervisor supervise caregivers.
Qualifications:
A companion/sitter must have 3 years of a satisfactory work record and with experience as a caregiver required. Chadon Health Services, Inc. must be able to verify three work or personal references, and the caregiver must complete the agency's employment process.
Must be at least 18 years of age.
High school diploma or equivalent preferred.
Must be physically able to perform the duties of the position.
Must exhibit mature, responsible behavior and understand the need for patient confidentiality.
Must be able to communicate with the client and carry out instructions.
Must be able to read, write, understand, and speak English.
Must be able to follow directions and accurately report to the administrator any change in client's condition.
Must maintain current credentials, including CPR, First Aid, and TB Test.
Must attend ongoing training when offered.
Must have available reliable transportation to and from assignments. May be approved to drive client and/or run errands.
Duties:
The duties of a companion/sitter may include but are not limited to the following:
Planning and assisting with preparing meals and snacks according to specific dietary requirements of the client. Wash the dishes and clean the kitchen.
Maintaining a safe, clean, and healthy environment through light housekeeping including changing bed linens, dusting and vacuuming, cleaning the bathroom, and doing the laundry.
Providing companionship and stimulation for the client, including reading, walks, etc. and accompanying the client to doctor's appointments and others.
Shopping for groceries or other errands when needed.
Performing other housekeeping tasks as indicated in the care plan.
Participating in in-service education programs.
Employee May Not:
Administer or pour medication as mandated by law.
Cut the fingernails or toenails of any patient.
Perform any personal care for the patient including toileting, hair care, oral hygiene, bathing, and grooming.
Assist with ambulation when patient uses mechanical aids, such as a walker.
Apply by submitting your resume to: [email protected]
Are you an experienced personal care aide with exceptional caregiver skills and who enjoys working with patients in a home setting? We are looking for individuals who have experience providing the following personal care services.
If you're a compassionate, positive person who isn't afraid to work hard, then this job is for you. We expect you to be polite and a good communicator. Experience in housekeeping tasks and caring for the elderly or sick will make you a strong candidate.
Responsibilities:
Ensure clients receive their medication on time.
Support clients who can't move on their own.
Help clients dress, bathe, eat, etc.
Assist clients with physical therapy exercises.
Cook meals according to the customer's restrictions.
Help clients with their shopping.
Do the necessary housekeeping to maintain a clean environment.
Provide emotional support.
Inform physicians or supervisors about uncommon events.
Act quickly and responsibly in cases of emergency.
Adhere to agency policies and procedures.
Requirements:
Current GA CNA Certification/License
CPR and First Aid Certificate
Current TB Test/Chest X-Ray
Physical/Health Screening
Pass Background Check/ Drug Screening
Three years of experience as a PCA or CNA
Motor Vehicle Record (MVR)
Valid Driver's License
Transportation and Auto Insurance
Must Have at Least Two Qualified/Verifiable References
To be considered, please submit your resume to:
[email protected] | [email protected]
Chadon Health Services, Inc. is a private nonmedical home care agency, which is serving the Northeast and Metro Atlanta. We are seeking registered nurses to do initial assessments on new clients. The ideal candidate will work 90% in the field. Duties MAY include developing and revising care plans, completing clinical records and nursing assessments, scheduling and performing supervisory visits, preparing progress notes, reviewing service records, and following up on complaints. We will prefer applicants who have a strong work ethic, pay attention to detail, and value punctuality. This is a great opportunity to earn extra income for a retired RN or an RN who recently gained home care experience and is looking to make extra money, but most important of all...have a passion for elder care!
Minimum Requirements:
Current GA RN License
Current CPR/First Aid Certificates
Experience within the last 2 years in home care or hospice care
Provide 3 professional references
Must be able to work a flexible schedule including weekends if needed
Must have reliable transportation
Must be outgoing and friendly and enjoy working with the elderly and disabled
Salary: Per Assessment Depending on Experience
Job Types: Part-Time, Contractual
Experience:
Registered Nurse: 2 Years (Required) in Home Care Setting
Licenses or Certifications:
Registered Nurse (RN) (Required)
BLS and ACLS (Required)